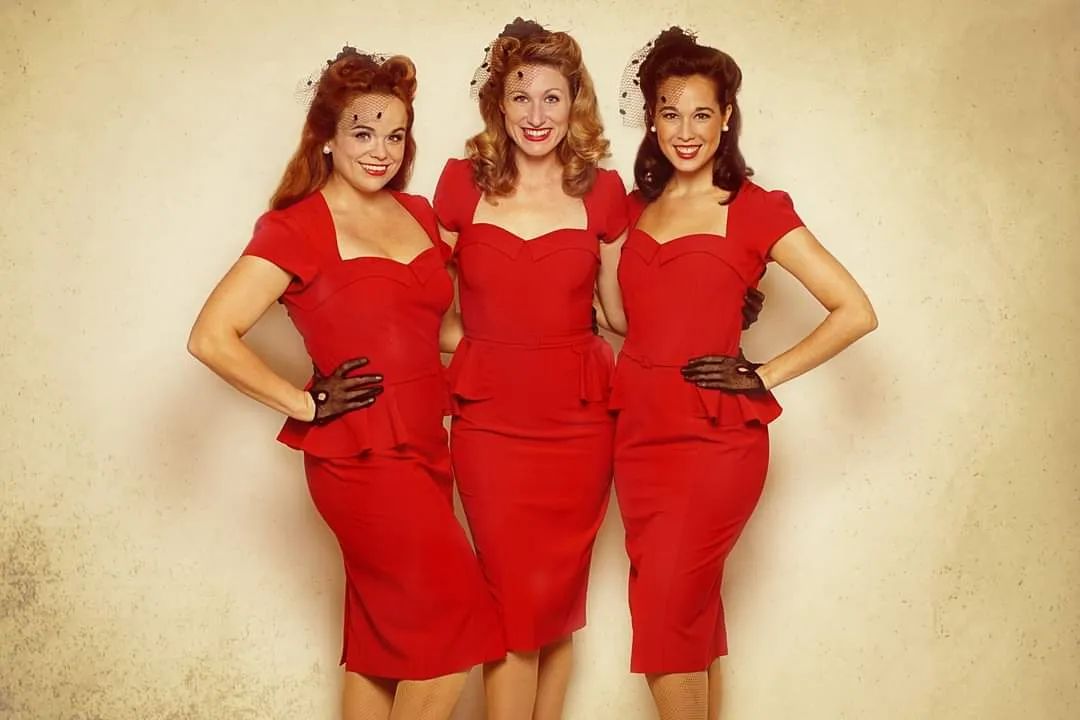 Central MT Community Concert
Experience the thrill of the world's greatest music by internationally acclaimed artists. Attend all six spectacular concerts for one low cost through the Community Concert Membership Plan!
America's Sweethearts
Fri. Oct. 8, 2021 7:30pm
Don't sit under the apple tree with anyone but the delightful America's Sweethearts, a vocal trio with piano accompaniment from New York. Following in the vocal steps of the Andrews Sisters, this tight-harmony ensemble will charm and delight with a wide range of repertoire from WWII to Great American Songbook favorites.
David Shannon
Sunday Oct. 24, 2021 2:00pm
Ireland's Greatest Showman. David Shannon grew up in Ireland and has been singing professionally for more than 25 years. David is renowned for his engaging style and charming personality. He recently released his second solo album Abhaile. David has played some of Broadway's most famous roles, including The Phantom (Phantom of the Opera), Jean Valjean (Les Miserables), Sweeney Todd (Sweeney Todd), Judas (Jesus Christ Superstar), Chris (Miss Saigon), and most recently Kevin T in the original London company of Come From Away. He was nominated for Best Actor at the Olivier's (the British version of the Tony Award) for Andrew Lloyd Webber's The Beautiful Game. David also enjoys a busy schedule performing with orchestras around the world.
Double Double Duo
Wed. January 19, 2022 7:30pm
Double-Double Duo is about much more than coffee; each duo member is a 'double threat' on two instruments: Kornel Wolak (clarinet / piano) and Michael Bridge (accordions / piano). Classically trained international soloists, they use comedy, virtuosity, and musical sensitivity to bring their broad repertoire to life. Actively touring in Europe, South America, and across Canada, and now the U.S., DDD performs their all - original arrangements of classical showpieces, sensitive jazz ballads, and fiery folk music from around the globe.
Kassia Ensemble
Sun. March 20, 2022 2:00pm
Featuring Kassia Ensemble on strings and Mary Elizabeth Bowden on trumpet. A rare combination of string quartet (2 violins, viola and cello) and trumpet offers a program of classical favorites. This blend of strings and brass produces an interesting and classy sound which will be augmented by a relaxed and comfortable rapport with the audience.
Branden & James
Tues. April 26, 2022 7:30pm
Led by the golden-voiced tenor/pianist, Branden (an AGT finalist) is paired with the talented Australian James on cello, and a fine pianist as the third member of this wonderful NY-based trio. Romping through the best of B'way, the Great American Songbook, some good old rock 'n roll perhaps an operatic aria or two, the audience will be delighted with the quality of musicianship, showmanship and professionalism.
Frank Vignola Hot Jazz Duo
Sun. May 1, 2022 7:30pm
FRANK VIGNOLA & VINNY RANIOLO, jazz guitarists supreme, will present a concert including songs from Bach and Mozart to Duke Ellington and Fats Waller blended with Gershwin and Carmichael. Tie the duo's fabulous musical virtuosity with a few comedy routines sure to make people laugh, and you get a Fun show.