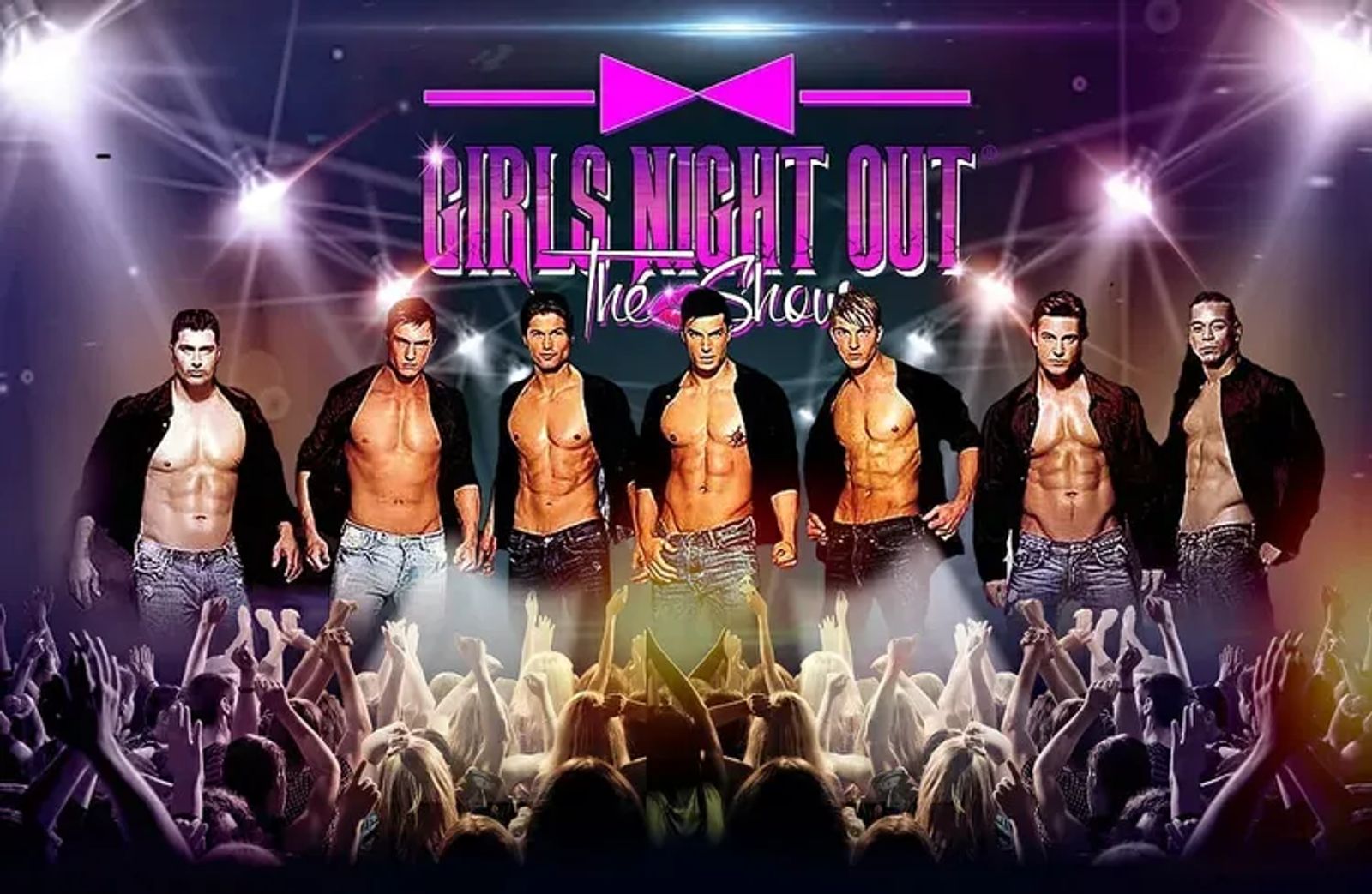 Girls Night Out the Show "Magic Male Revue" [Windham]
Girls Night Out the Show is a a Mantastic Night of Fun & Excitement! This Sex God, Ab Party, that will drive you absolutely Wild… in the best possible way of course! The Show is a Whirlwind of Sexy Goodness as these chisled Adonis Men bring Down the House with the BEST GIRLS NIGHT EVER!. Whether you're celebrating a Birthday, Bachelorette, Divorce, Dirty Thirty or your own Sheer Awesome Self. You will meet your party match with "GIRLS NIGHT OUT THE SHOW"!
Along With Having Your Mind Blown... Here's a few more details on what you can look forward to at GIRLS NIGHT OUT THE SHOW: 120 sexy minutes of heart pounding Excitement watching the sexiest men in the country heat up the stage; each number is electrifying as these Handsome Blokes will drive you wild; they entice and tease; bringing you out of your seat clapping & cheering for more... Each sexy performance embodies a different female fantasy and brings it to life, turning your wildest dreams & Fantasies into reality. .... All of this and more happens as you watch #1 Male Revue Show in the Nation!
Throughout the amazing choreographed dance numbers and ripped Ab's, there are also interactive crowd participation with multiple opportunities for you & your girlfriends to get in on the action.
This isn't the type of show you just sit and watch – GIRLS NIGHT OUT THE SHOW is a fully interactive show. It is the Real MAGIC MIKE EXPERIENCE!
Come get rambunctious and a little wild in an empowering, fun-filled environment and embark on an unforgettable Night of Fun & Excitement the World Famous GIRLS NIGHT OUT THE SHOW! See why Millions of Women across the country have lined up to see this first class stage spectacular! So Ladies your party's not going to plan itself, After all you deserve a night out with your friends, so let's get you started! General Admission Tickets Only $20 and a limited number of VIP PACKAGE available for only $35 this show has known to sell out fast so don't delay Get your Tickets today @ https://www.ticketor.com/girlsnightouttheshow/tickets/bar-87-casino-bar-grill-21-107305#buy.
Or stop by the BAR 87 CASINO BAR AND GRILL -42754 U.S 87 –STANFORD, MT 59479.
We will see you at the Ultimate Girls Night Out Soiree'.