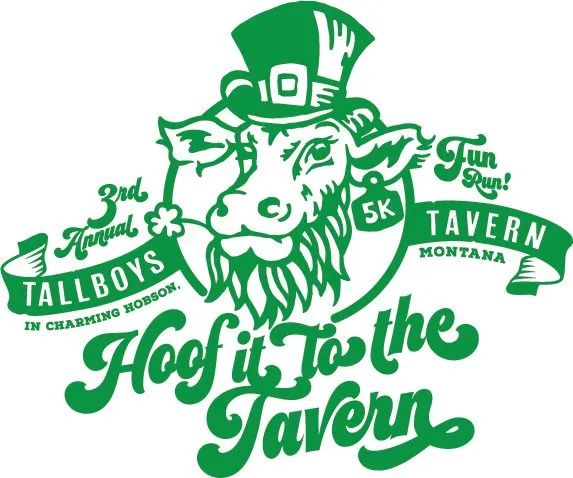 Hoof it to the Tavern 5K
Bringing it back by popular demand!
Thank you to all of the past participants who encouraged us to host this event! We are proud to announce we will be doing it again this year!
Join us Sunday, March 15th at 11 am for our 4th annual 5K fun run! The race begins and ends at Tall Boys Tavern! Pre-registered participants will receive a long-sleeve "Hoof It" t-shirt, a drink token redeemable for a pint of stout (or a single drink of choice)! Hot cocoa and chocolate milk will be available after the race for underage participants!
Tall Boys will feature Irish-inspired lunch fare to satisfy tummies after the race!
Prizes will be awarded to first place participants in each category.
CATEGORIES:
1. MEN 18+
2. WOMEN 18+
3. YOUTH 18 AND UNDER
4. BEST IRISH-INSPIRED COSTUME
TIPS:
1. PRE-REGISTER NOW!
2. SHOW UP EARLY, THE DAY OF THE RACE. GO TIME IS 11 AM.
3. DRESS FOR THE WEATHER! COULD BE COLD!
4. WEAR YOUR MOST OUTRAGEOUS IRISH ATTIRE! FEATHER BOAS AND TUTUS ARE ENCOURAGED!
5. BRING A WATER BOTTLE
6. RUN WITH A FRIEND!
7. EAT A NUTRITIOUS BREAKFAST PRIOR TO RACE TIME
8. HAVE FUN, EVERYONE IS IRISH ON ST. PADDY'S DAY!!
https://www.raceentry.com/races/4th-annual-hoof-it-to-the-tavern-5k/2020/register
EARLY BIRD REGISTRATION STARTS JANUARY 17, 2020! Register early for the discounted rate, and to secure your shirt!
PRE-RACE REGISTRATION BEGINS FEBRUARY 17, 2020
Participants still qualify for a small discount, and shirt is secured!
ONLINE REGISTRATION ENDS MARCH 14, 2020
DAY-OF REGISTRATION STARTS AT 9 AM
Day of registration does not qualify for a discount and t-shirts are not guaranteed.
LOOKING FOR VOLUNTEERS! Contact Liz if you are interested in helping with this event! 406-600-8079