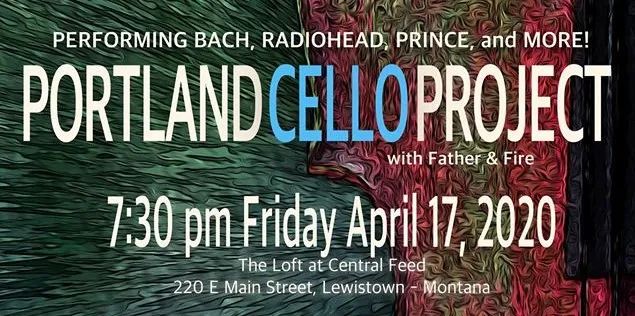 MIH Intimate Concert Series with The Portland Cello Project
As you all probably expected, due to COVID-19 and the CDC's recommendations on how to keep each other safe, Make It Happen and The Portland Cello Project have decided to reschedule the April 17th Intimate Concert. We are incredibly sad that we won't be able to share this "Hoard of Cello's" with you on April 17th! Please mark your calendars and join us on the rescheduled date of Friday September 18, 2020, 7:30pm, at the Loft at Central Feed. We implore you in the meantime to stay in, stay healthy, and be considerate of those at highest risk from this virus.
Every ticket purchased will be honored for the new show. Although refunds are not available please use our social media platform if you need to sell your ticket (s). All people, organizations, musicians, businesses and more are struggling with how to navigate these waters, and we'd like to thank you for your unwavering support, kindness, and understanding.
Make It Happen's Intimate Concert Series kicks off with the genre crossing, The Portland Cello Project on September 18, 2020; with opening artists, Father & Fire! Only 150 tickets will be sold for this incredibly intimate concert at The Loft in Central Feed Grilling Company. Bringing 5 cellists, bass, and percussion to Lewistown, Montana this nationally recognized and self-described, "horde of cello's", is known for:
Bringing the Cello to places you normally wouldn't see it;
Performing music music on the cello you normally wouldn't associate with he instrument, and;
To build bridges between different musical communities through educational, community outreach, and through collaboration with myriad artists, from The Dandy Warhols to Garrison Keillor to Ural Thomas to Corin Tucker (Sleater-Kinney) to Jolie Holland to Peter Yarrow (Peter, Paul and Mary).
Tickets will go on sale early March 2020. Online ticket purchases can be made with Hidden Montana at hiddenmt.com, and our hard ticket outlets are in Lewistown, Montana, at both the Lewistown Art Center and Marigold Market.
Father & Fire will begin this Intimate evening at 7:30 pm - GA doors open no earlier than 7:00 pm.
**13 and over please**
GA Tickets $30 each plus any online fees if purchased online.
No Refunds/No Exchanges.
Be considerate/Be Polite or you will be asked to leave.