Central Montana Burger Challenge - The Wrangler Bar in Grass Range
Are you ready? We warn you, reader, that the following is not for the faint of heart, or those with high blood pressure. Really, one must be in relatively good condition to approach this challenge we propose to you.
It is time, dear reader, to determine which establishment in Central Montana has the BEST burger. And we mean the best. We're talking good meat, excellent toppings, and crispy yet fluffy fries. We demand perfection. And shouldn't we? Central Montana is a beef and wheat producing empire (there are over 790 farms and ranches in Fergus County limits), so we expect an impeccable patty between golden buns.
There are, of course, some rules. Fair's fair and all that.
First, ambiance and service must not be considered in the quest for the perfect burger. On the most optimistic end of this rule, we expect (and know) Central Montana service and hospitality to be second to none, from the dive bar to fine dining. Secondly, both authors have worked food service, and know that a bad day for a server doesn't constitute a bad meal. We can separate the burger from its establishment, because this is about the burger, hierarchies and niceties be damned!
Second, our testers (authors) will order consistently. Virgina Slim will always order either: the Burger of the Day, or whatever is recommended by the staff. Chester Goode will always order a bacon cheeseburger. He's a good ol' boy with a soft spot for consistency. Between a "local favorite" and a consistent standby, we believe that we can assess an institution's commitment to excellence.
Finally, we will follow a rubric that considers the following, each worth a potential 5 points for a total of 25: Beef, Bun, Toppings, Fries, and "First Bite" (total taste). After each burger is scored, we'll average our reviewer scores to give each establishment an overall score.
Hungry yet? We are. Our first stop was the Wrangler Bar in Grass Range, Montana. While certainly not fancy, this hole-in-the-wall offers excellent food, good drinks, Big Buck Hunter, a pool table, and occasional live music. We were treated to a pick up jam session during the course of a quick dinner, and enjoyed it thoroughly.
Virginia Slim ordered the Wrangler's special, a mushroom and swiss burger, and Chester, as usual, got a bacon cheeseburger with American cheese. On the suggestion of the staff, Virginia got hand cut fries, while Chester opted to try the tots.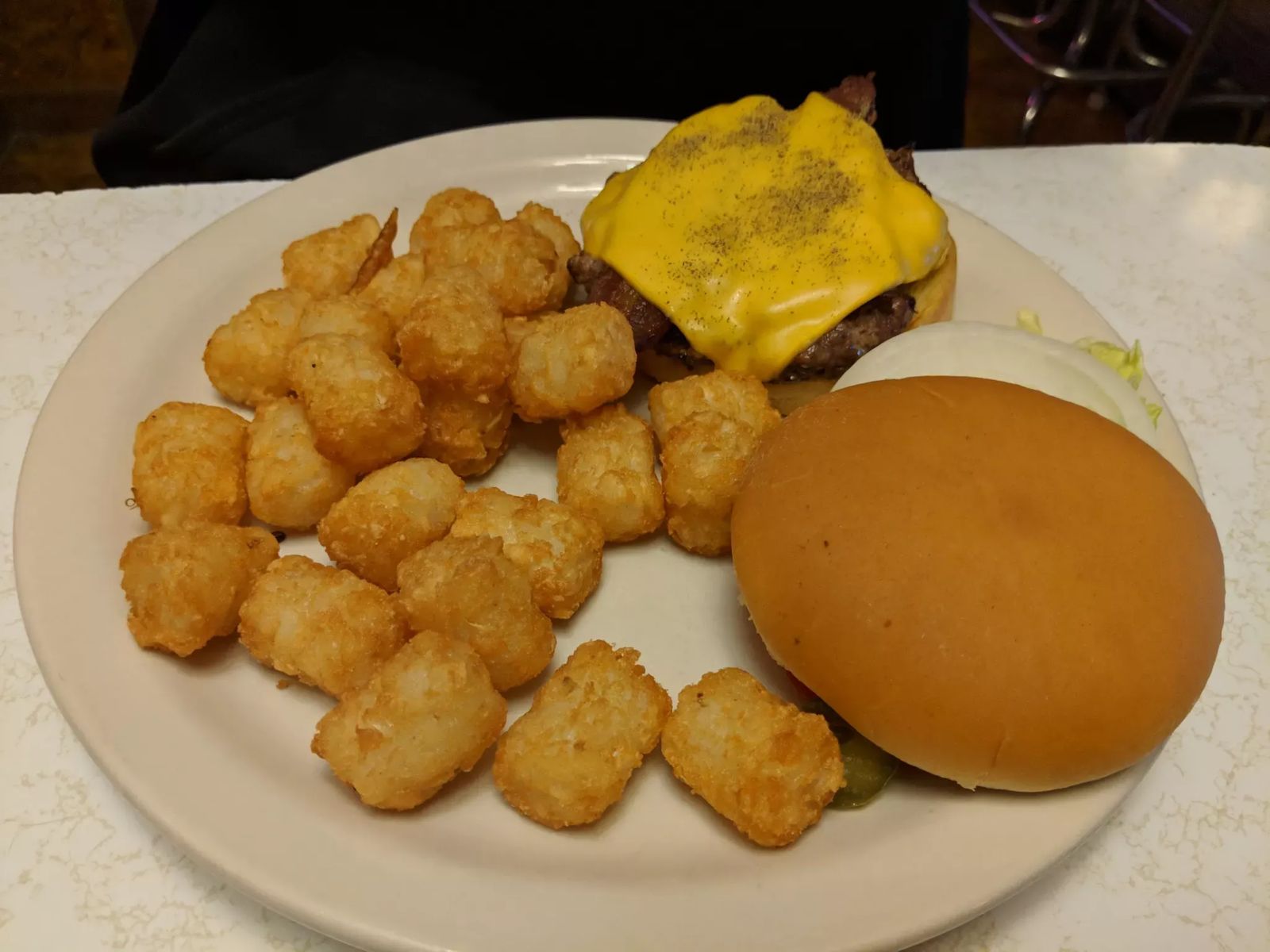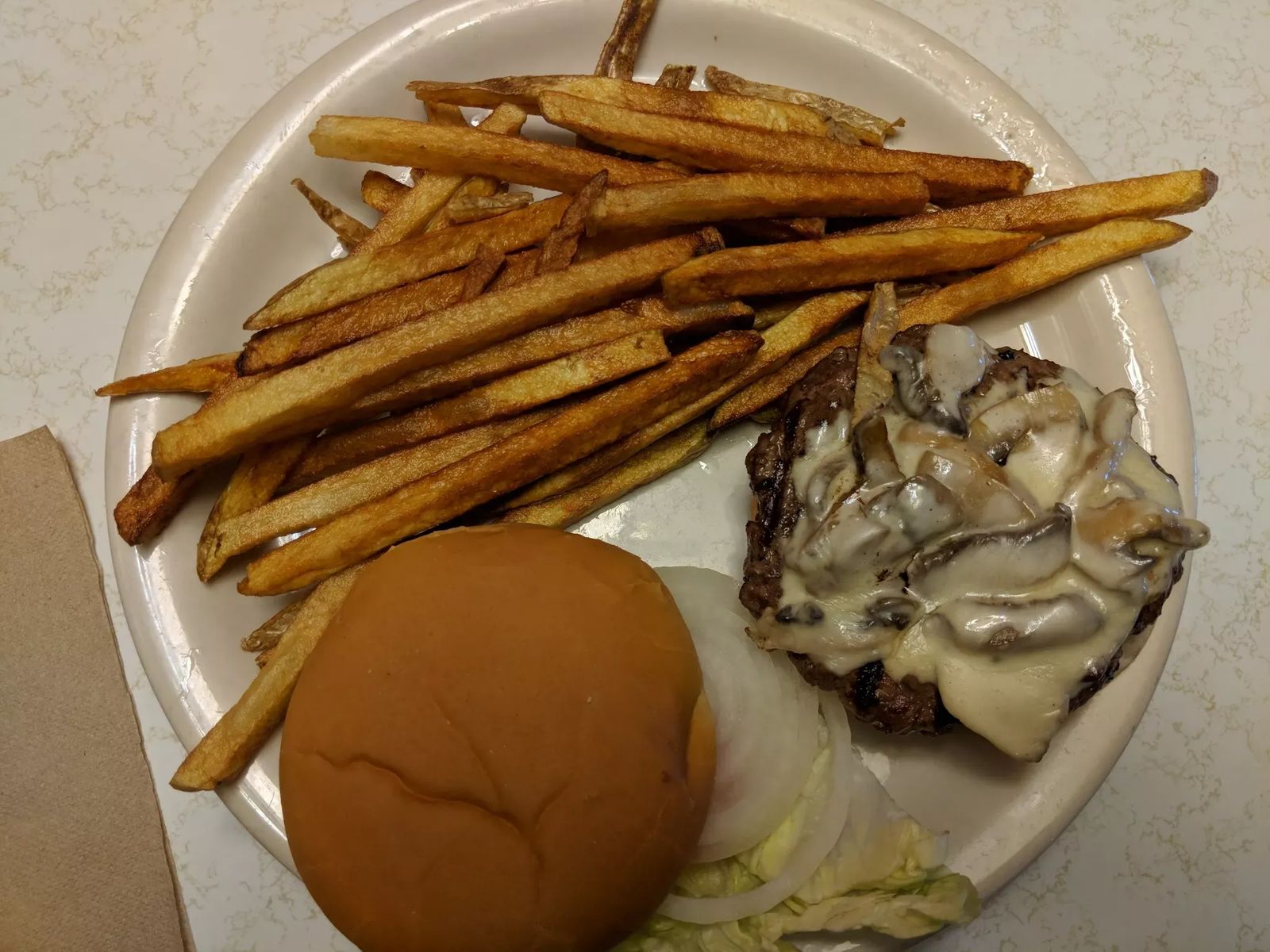 Oh man, did we enjoy these burgers! Just the right amount of food, each of us only left a few lingering spuds on the plate, having finished these traditional burgers. The beef was quality, although the patties were not as big or as seasoned as they could be, and were sandwiched between standard, white bread buns, which were fine, but ended up soggy near the end. The toppings were fresh and excellent, and Chester added an extra point for the housemade Ranch dressing. The overall bite, however, was better than the sum of its parts. These burgers would satisfy any hungry belly, and we bet you'll finish your meal quickly.
If you're looking for fine dining, unusual toppings, or romantic ambiance, the Wrangler might not be for you. But for a good time, chatty locals, cold beer, and a damn good burger, Grass Range is only a short drive away.
reviewers ||||| virginia slim ||||| chester goode
burger title ||||| mushroom + swiss ||||| bacon cheeseburger
beef (out of 5) ||||| thin, traditional patty (4) ||||| 4 quality beef but not as amazing as it could be
bun (out of 5) ||||| exactly what you'd expect. got.soggy (3) ||||| 2.5 normal run of the.mill
toppings (out of 5) ||||| 3 everything was traditional but yummy ||||| 4 average ranch brings it up
overall taste (out of 5) ||||| mmmmmmm4 ||||| 4
sides (out of 5) ||||| 4 - fries were excellent, but a bit greasy ||||| standard tater tots, nothin' more, nothin' less. 4
total ||||| 20 ||||| 18.5
restaurant average ||||| 19.25 ||||| 19.25
About our Authors
Virginia Slim is a relocated city slicker with a taste for unusual toppings and passion for the perfect fry. Her dream burger has guacomole and carmelized onions on it.
Chester Goode is a local boy with down home tastes. He'll always pick a bacon cheeseburger, but likes his bacon crisp. A Ranch dressing connoisseur, Chester is a puritan when it comes to toppings (no frills for this guy!) and never misses a shake-a-day.
other things you might like