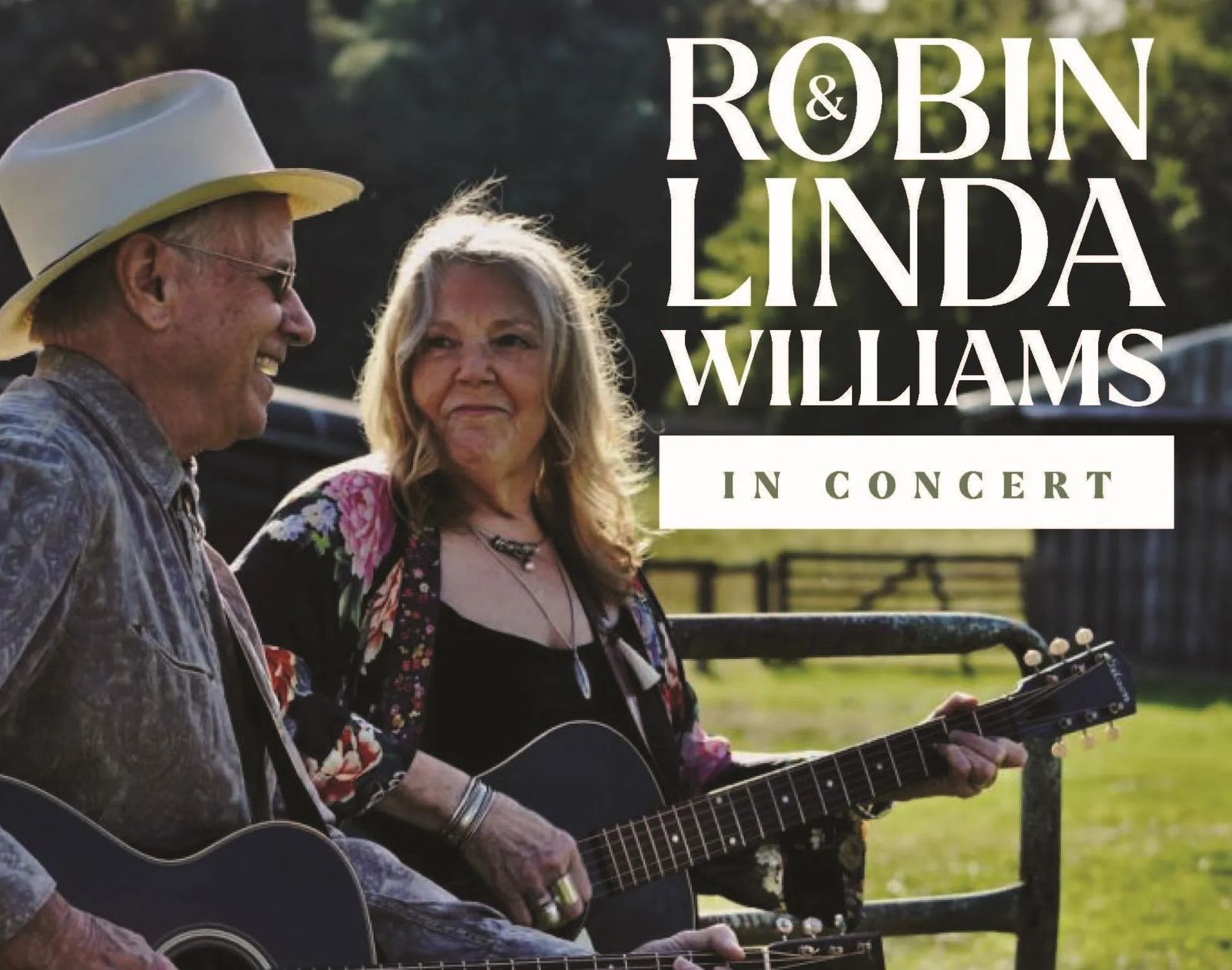 American Prairie and Mighty Fine Time present "Robin and Linda Williams in Concert"
PRAIRIE HOME COMPANION'S, ROBIN AND LINDA WILLIAMS, TO PERFORM AT NATIONAL DISCOVERY CENTER
Country/Folk/Gospel Duo in Concert September 26, 2023, at 7 pm
American Prairie and Mighty Fine Time are pleased to present Robin and Linda Williams in Concert, a community event featuring the legendary country/folk/gospel duo Robin and Linda Williams. The performance will take place September 26 at 7 pm in the Clyde Aspevig Event Center in American Prairie's National Discovery Center, located at 302 W Main Street in Lewistown, Montana. Admission is "pay what you can". All show receipts and donations from this event will be collected by Stone City, a local events and production company, which will distribute them to nonprofit Lewistown music programs. Donations associated with this event can also be made online or at the door using a QR code. Light refreshments will be available following the performance. There will also be an opportunity to meet and mingle with the artists.
"…Among contemporary country performers, Robin and Linda Williams shine like a diamond amid rhinestones …" David W. Johnson, The Boston Globe
Robin and Linda Williams have come full circle, starting out as a duo, then continuing separately as bandleaders for 25 years, before finally performing as a duo again. Their recording career started in Minneapolis where they recorded their first three records for a local company, establishing a template they have used their entire careers: original tunes, songs by contemporary artists, and time-honored numbers from the Appalachian and blues traditions. It was at this time when they made their first appearance on a little-known radio show, conceived and hosted by Garrison Keillor, called "A Prairie Home Companion." This began a rich relationship with that iconic show that has continued for four decades.
Robin and Linda Williams spent their careers crisscrossing the nation, playing theaters, college coffeehouses, festivals, community concerts, but also Carnegie Hall, the Grand Ole Opry, Radio City Music Hall, Austin City Limits, the Ryman Auditorium, and Mountain Stage. Robin and Linda are also gifted songwriters whose songs have been covered by Emmylou Harris, Tom T. Hall, Mary Chapin Carpenter, Kathy Mattea, and more. They established fruitful relationships with five recording companies and have recorded twenty-three CDs. Their gospel CD, "Good News," on Sugar Hill Records garnered two nominations for Gospel Album of the Year in 1995 and their latest CD, "A Better Day a-Coming," spent the summer and fall of 2021 in the Top Ten of the FAI Folk Radio Charts.
When they are not touring, Robin and Linda come back to their old frame house in the heart of Virginia's Shenandoah Valley where they have lived for over forty years. They are eager to return to Montana, where they have friends and relatives in Livingston. To learn more about Robin and Linda Williams, visit their website at https://myriadartists.com/robin-and-linda-williams/.
The National Discovery Center is free and open to the public Thursday through Saturday from 10am to 4pm. Visit americanprairie.org/national-discovery-center to learn more, and follow American Prairie on Facebook for updates on upcoming events and programming.