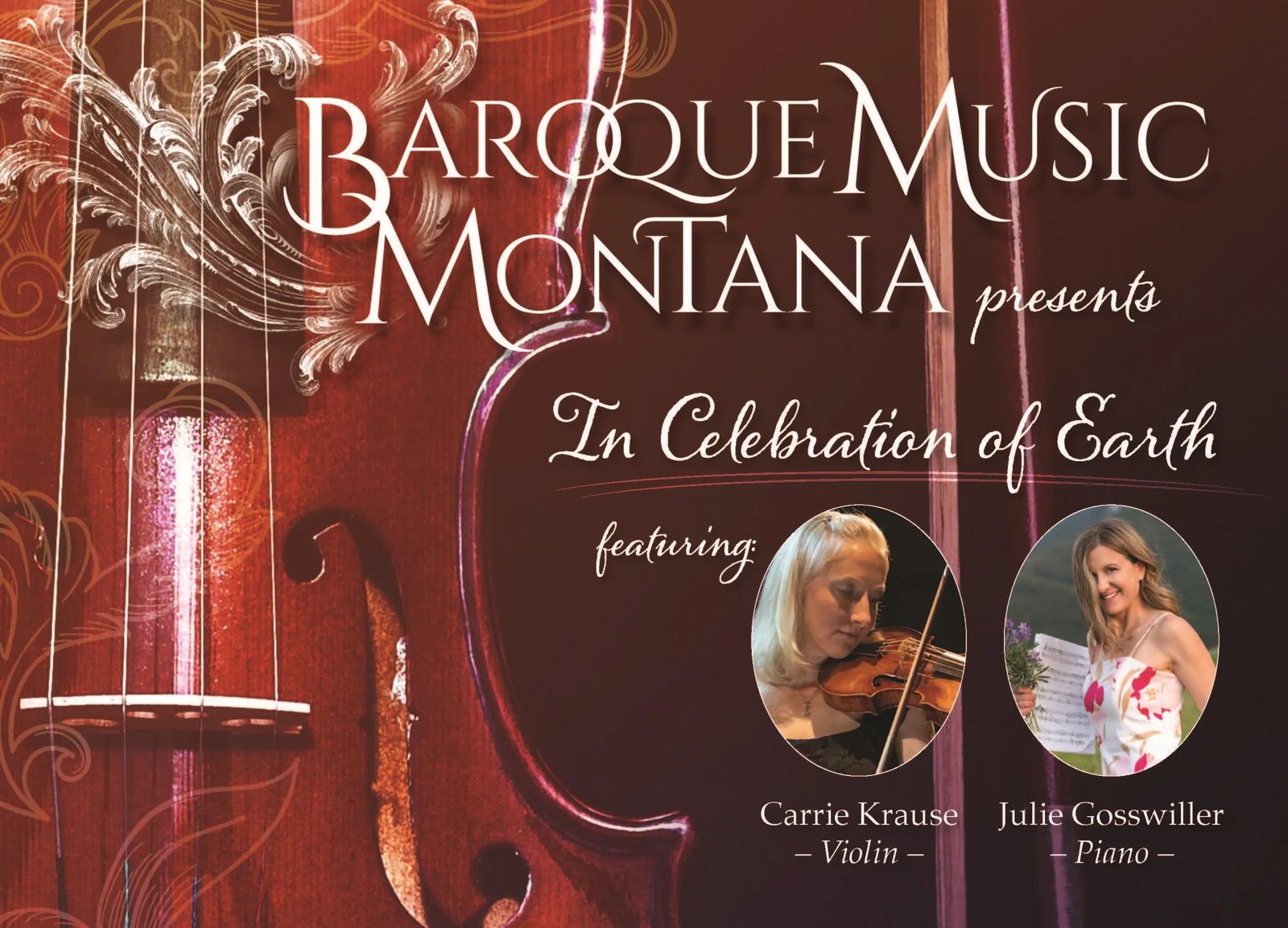 Baroque Music Montana presents "In Celebration of Earth" featuring Carrie Krause and Julie Gosswiller
BAROQUE MUSIC MONTANA TO PRESENT CONCERT AT NATIONAL DISCOVERY CENTER
School of Music in Lewistown to host master class with musicians
American Prairie is pleased to announce an evening concert of classical music in partnership with Baroque Music Montana at the National Discovery Center in Lewistown. On Thursday, March 30 at 7:30pm, pianist Julie Gosswiller and violinist Carrie Krause will present Beyond Baroque: In Celebration of Earth. The musicians will perform works incorporating elements of nature and reverence for the Earth by both contemporary and nineteenth century composers, including Brahms, John Luther Adams and Lili Boulanger.
The 75-minute concert will be held in the Clyde Aspevig Event center inside American Prairie's National Discovery Center, located at 302 W. Main in Lewistown. There is a suggested donation of $10 to benefit Baroque Music Montana. Donations can be made online at https://baroquemusicmontana.org or at the door with your phone using a QR code. Light hors d'oeuvres will be available following the event.
Prior to the concert, Gosswiller and Krause will teach a masterclass at the School of Music at the Emporium in Lewistown. This class begins at 4pm at the Montana Day Building, located at 225 W Main Street. To register for the masterclass or to learn more about it, contact Loraine Day at schoolofmusicattheemporium@gmail.com or call (406) 538-8405.
The National Discovery Center is free and open to the public Thursday through Saturday from 10am to 4pm. Visit americanprairie.org/national-discovery-center to learn more, and follow American Prairie on Facebook for updates on upcoming events and programming.
Violinist Carrie Krause
Carrie Krause is the Founder and Artistic Director of Baroque Music Montana, an organization which presents a series of community concerts in southwest Montana, as well as the Period Performance Workshop. As a modern violinist, Krause serves as concertmaster of the Bozeman Symphony and was concerto soloist with the Billings Symphony, Fairbanks Symphony, Casper Symphony, String Orchestra of the Rockies, and Bozeman Symphony. She has served as guest concertmaster of the Big Sky Festival Orchestra, Billings Symphony, Helena Symphony, and guest artistic director of String Orchestra of the Rockies. Raised in Fairbanks, Alaska, Krause has performed as baroque violinist with ensembles across the nation and on numerous international series, including engagements in France, England, Serbia, Switzerland, and Finland. She has been featured four times in the Emmy Award-winning TV series, 11th and
Grant. Krause received degrees from Carnegie Mellon University and the Cleveland Institute of Music in violin performance and a second masters from The Juilliard School in Historical Performance.
Pianist Julie Gosswiller
Julie Gosswiller has collaborated with renowned musicians, such as Adam Barnett Hart of the Escher String Quartet, the Ahn Trio, Dallas Brass, and more. For more than 17 years, Gosswiller and soprano Elizabeth Croy performed "art song" together around Montana and the United States and have been featured twice on the Emmy Award winning TV series, 11th and Grant. Gosswiller and Croy won numerous awards in the Cybersing Competition, including the Nancy Babcock Award for Best Pianist. Gosswiller holds a Master's Degree in piano performance from the University of Colorado. Prior to moving to Bozeman with her family, Julie served as pianist for Colorado Children's Chorale on their regional tours and at the Boetcher Concert Hall in Denver. In addition to performing, Gosswiller teaches at Montana State University, where she received the President's Excellence in Teaching Award.
About American Prairie
American Prairie's vision is to create a vast and collaboratively-managed prairie destination that serves as a fully functioning ecosystem for wildlife, and offers visitors permanent access to the landscape that shaped our nation's character. Already open to the public for recreation including camping and hunting, American Prairie offers visitors an opportunity to connect with nature on a truly grand scale. Learn more at americanprairie.org.