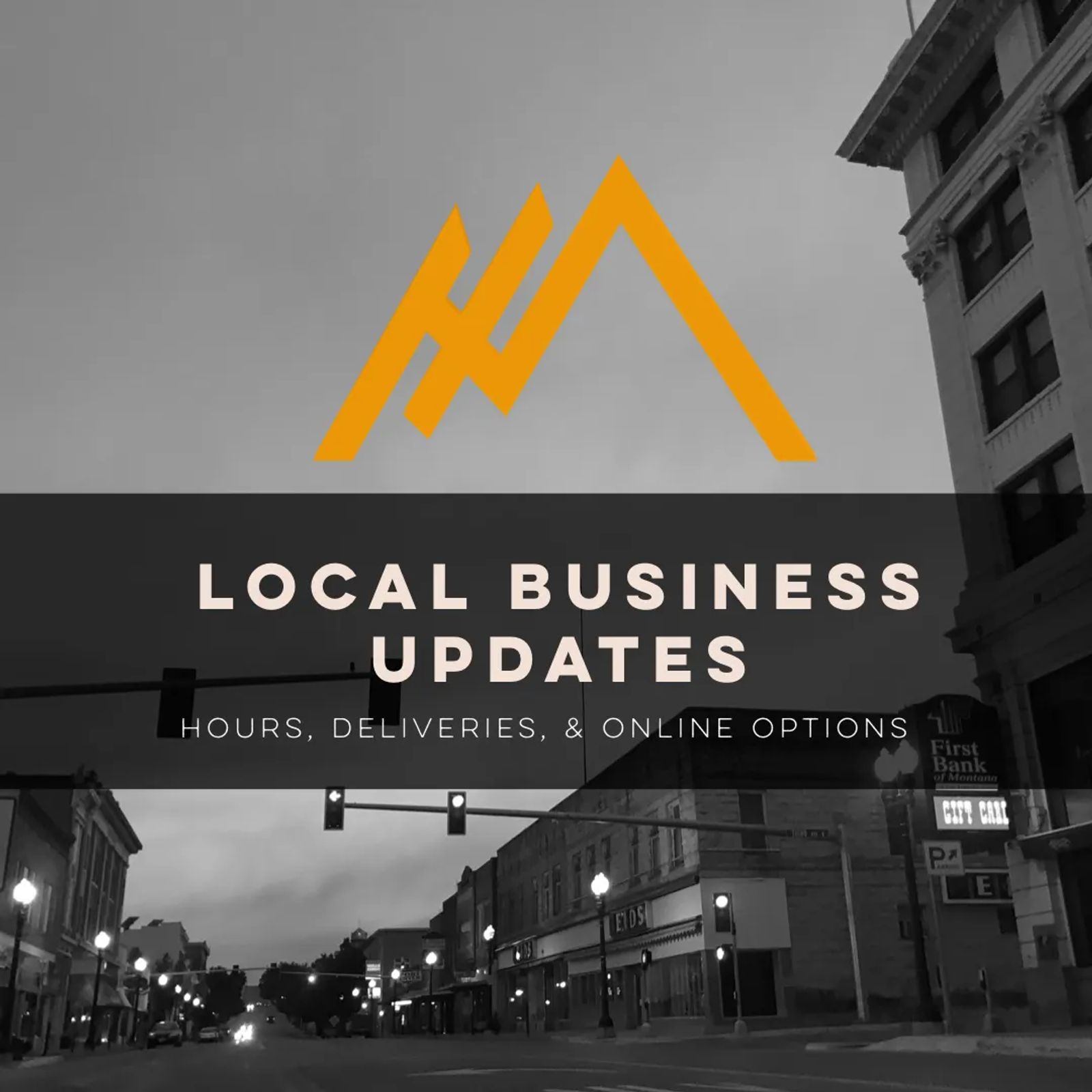 Updates from Local Businesses
As of 3/23/20
Per the Governor's order, the following locations are closed to members of the public:
Restaurants, food courts, cafes, coffeehouses, and other similar establishments offering food or beverage for on-premises consumption. (Delivery, take-out, and drive-through are still allowed; see above for local companies offering those services.)
Alcoholic beverage service businesses, including bars, taverns, brew pubs, breweries, microbreweries, distilleries, wineries, tasting rooms, special licensees, clubs, and other establishments offering alcoholic beverages for on-premises consumption.
Cigar bars.
Health clubs, health spas, gyms, aquatic centers, pools and hot springs, indoor facilities at ski areas, climbing gyms, fitness studios, and indoor recreational facilities.
Movie and performance theaters, nightclubs, concert halls, bowling alleys, bingo halls, and music halls.
Casinos.
The following businesses or organizations are working on modified hours, services or programming, or are closed:
Albertsons - 7-9 AM Seniors ONLY shopping, 9 AM – 10 PM Tuesday and Thursday General Public; 7 AM - 10 PM Monday, Wednesday, Friday, Saturday, Sunday General Public
Alpine Floral – open, holding prom orders for the rescheduled date
American Prairie Reserve – closed to walk-in traffic, working remotely
Angelina's Beauty Spot – closed; pick-up on products will be available and we will let you know
Benchmark Masonry – still doing business by phone and doing snow plowing, in-person meetings and appointments postponed
Blue Stone Boutique - limited hours, but free delivery/shipping for phone, online or virtual shopping
Boys & Girls Club - available for assistance with food and supplies during school closure
Calvert Hotel – closed March 19th - 25th; in lieu of the hot breakfast, a "Grab & Go" packaged breakfast will be provided
Caslen Living Centers – closed for visitors
Central Montana Shuttle – 6:30 AM Tuesday and Thursday, COA 535-7486 with one day notice
Civic Center - closed for several weeks
CMMC - No visitation, cafeteria and Fitness Center closed, Support groups are cancelled, patients enter thru main entrance doors
Community Cupboard - clients are served pre-packed boxes as they wait in their cars or at the front door
Connection – modified hours 10 AM – 2 PM; closed Sun, Mon
Council on Aging - closed to the public, but still providing transportation needs and in-home meal delivery
Country Junction – closed to walk-in traffic, virtual shopping available, also phone and social media orders/shopping
Doc's – closed March 21st – 27th
Eagles Manor and nursing homes - No visitors
Fergus County Sheriff's facility - no concealed weapons permits or fingerprinting
Fitness Central - closed until further notice
Fergus Federal Credit Union – lobby closed until further notice starting Friday, March 20th 5 pm
FWP fish hatcheries and visitor centers - closed until further notice (FWP fishing access and state parks - remain open)
Heart of Montana Thrift Shop – limited hours Wed-Sat Noon – 2:30 only
Hobson Insurance – business hours as usual, but closed to walk-in business until further notice; drop-box available for payments, 423-5428
Judith Theatre - closed
Justice of the Peace Court and City Court - limiting in-person hearings; matters not required to be heard will be continued
Juvenile Probation - closed until March 23rd
Lewistown Ace Hardware – continuing to hold regular hours everyday
Lewistown Art Center - closed thru March 28th
Lewistown Eye Care Associates – closed March 19 – April 6; call for emergencies only
Lewistown Insurance – Normal 8:30 – 5 business hours, but all business conducted by phone or email, no walk-in or in-person transactions; drop-box available
Lewistown Public Library – closed, book drop also closed; virtual story time Fridays 10:30 AM; Saturdays 11 am
Lewistown Public Works - suspending non-essential office visits
Lewistown Rental - OPEN, limited physical proximity, no hand shaking policy, no signature on electronic check out, pens are yours to keep when signing the contract, happy to take reservations over the phone
Lewistown Sew Pieceful - open with limited staff, classes cancelled
Marigold Market – open, delivery available for LIMITED amount of items Weds & Fri
MHSA - indefinite suspension of all spring activities
Moccasin Mountain & Art Gallery – limited staff 10 AM – 4 PM; closed Sat, Sun
Moen Family Dental – closed for routine appointments, patients will be contacted for rescheduling, emergency services only, 538-2376
Northwest Farm Credit Services – business as usual from remote location; office closed, but accessible at 538-7737 or by email
Parr Creek Bakery - closed due to school closure
ROWL - closed for drop off of plastic until further notice
Salon 406 on Main – open and disinfecting thoroughly; reschedule if ill please!
Simple Style and Then Some – closed
Snowy Lanes – closed thru March 31st
Snowy Mountain Development - closed to the general public, staff on modified work schedules, contact by phone or email, no Friday hours
Social Security Offices – closed
Tenth Judicial District Court - matters not required to be heard will be continued
The Coffee Cup - closed the week of March 16th and re-evaluating
True Value Hardware Lewistown – delivery service available 538-5902