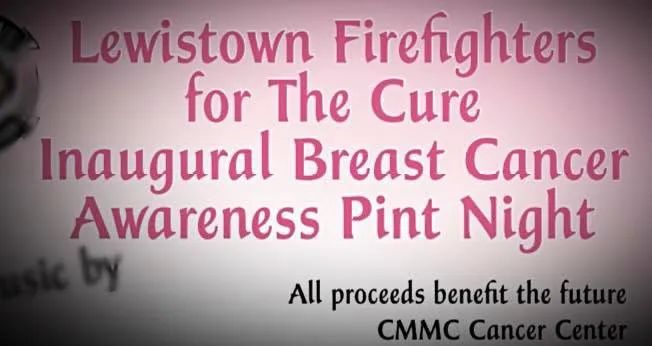 Firefighters For The Cure - Inaugural Breast Cancer Awareness Pint Night
It's October and that means it's Breast Cancer Awareness month!
Therefore, Lewistown Firefighters Association and the Local # 3429 are hosting:
Lewistown Firefighters for The Cure- Inaugural Breast Cancer Awareness Pint Night
This is the official kickoff fundraiser for the CMMC Cancer Center, which is planned to be opened Spring/Summer of 2023. The intent of the Cancer Center is to provide oncology services here in Lewistown, so our local cancer patients don't have to travel to get services or see a specialist.
The event will take place Friday October 29th from 6-10 PM at the Eagles Club Hall.
It is $35 to enter which gets you full access to the event, a custom pint glass, and two beers. Additional beers from Big Spring Brewing will be available until it's gone. A full Eagles Bar will also be available.
There will be live music by El Wencho, a powerhouse duo that will keep you fully entertained all night! These guys are truly amazing to watch! Custom T-shirts from 406 Design will be for sale. We will also be doing some raffles and 50/50 tickets. Some of the prizes to win are a Green Mountain Grill from Big R, a custom knife from Benes Blades, a Pelican Cooler from the Lewistown Firefighters Association, and more…
We cordially invite everyone to attend. Please come out, support this great cause and raise a pint for those past, present, and future cancer fighters. This year's motto is "no one fights alone!" This stands true in our community because we protect our own and we have each other's back in times of need.
Thank you for your time Central Montana and thank you to all our sponsors for this event!
Sponsors are: Big R, Bank of the Rockies, Benes Blades, Gatz Ranch, LeCleaners, Eagles Club, Vine & Vat, Big Fish Foundation, Ballyhoo Printing, Angela Alaers-Mary Kay, 406 Design, D's Promos, and the Sports Center.