Big Spring Creek
Big Spring Creek, one of the largest spring-fed streams in Montana, originates 9 miles southeast of Lewistown, near the Big Springs Trout Hatchery. The spring is the one of the largest in the world, flowing at approximately 50,000 to 64,000 US gallons per minute out of the Madison-Limestone formation.
Big Spring Creek runs northwesterly 30 miles, mainly between the Big Snowy and Judith mountains, and enters the Judith River west of Brooks, Montana. From the spring, cold, high-quality water flows over green mats of water plants and down between birches, willow, hawthorne, native shrubs and grasses. The creek continues its first 20 miles alongside hay and grazing fields and US 191, passing through Lewistown.
Above the town, Big Spring Creek averages 38 feet wide, 18 inches deep, below to the mouth, 45 feet wide, 24 inches deep. Water quality degrades going downstream, due to erosion and pollution. In its last 10 miles, from the mouth of Cottonwood Creek to the Judith, the channel migrates. Its silty bottomland supports dense stands of cottonwoods, willows, birches, and hawthorne.
Considered by anglers to be the most important trout stream in central Montana, Big Spring Creek attracts large numbers of wildlife, including waterfowl and furbearers. Agriculture, municipal and recreation uses, hunting, and homesite development depend on or are associated with Big Spring Creek.
Swimming & Tubing
If there's just one tradition in Lewistown, it has to be floating Big Spring Creek in the summer. It's a cool, beautiful, easy float, and a great way for families or friends to spend a lazy afternoon. Most people put in at Roundhouse Road or Timberline Road and take out at Brewery Flats.
Fishing
Big Spring Creek is a popular fishing location for trout anglers and has significant public access: there are six Fishing Access Sites operated by the Montana Department of Fish, Wildlife and Parks between river mile 27 and mile 15. The creek is a fly fisherman's dream and is popular for rainbow and brown trout as well as brook trout.
Primary Species:
Brook Trout
Brown Trout
Common Carp
Fathead Minnow
Goldeye
Lake Chub
Longnose Dace
Longnose Sucker
Mottled Sculpin
Mountain Sucker
Mountain Whitefish
Northern Pike
Northern Redbelly Dace
Plains Minnow
Rainbow Trout
Sauger Perch
Shorthead Redhorse
Walleye
White Sucker
Yellow Perch
Fishing Access Sites:
Hruska
Reed & Bowles
Carroll Trail
Lazy KB
Brewery Flats
Spring Creek
Hatchery
For More Information
Montana Fish, Wildlife, and Parks Phone Number: (406) 538-2445 Ext. 227
How to Get There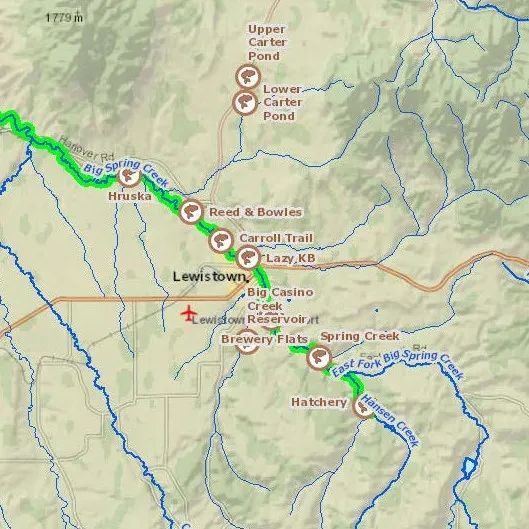 Other Things You Might Like