Charles M. Russell National Wildlife Refuge
Encompassing approximately 1.1 million acres, Charles M. Russell National Wildlife Refuge provides a rare opportunity to experience wild lands and wildlife in a natural setting. Visitors to the Refuge can enjoy Refuge wildlife and scenic grandeur in nearly the same surroundings as encountered by the Lewis and Clark Expedition in 1805.
The headquarters for the Refuge Complex is located in Lewistown. Office hours are 7 am to 4 pm, closed weekends and holidays. Three staffed field stations are located around the Refuge. Sand Creek Wildlife Station is located 2 miles south of the Missouri River on the east side of U.S. Highway 191. Jordan Wildlife Station is located south of Montana Highway 200 in the town of Jordan. Fort Peck Wildlife Station is located east of Montana Highway 24 in the town of Fort Peck. Office hours for all field stations are 7 am to 4 pm and they are closed weekends and holidays.
Due to the Refuge's immense size and remote location, visitors should be prepared for a variety of conditions. Temperatures can range from 100ºF in the summer to -20ºF in the winter. While the Refuge has many miles of vehicle trails open for travel, many of these trails are "primitive" and require a high clearance vehicle and/or four-wheel drive. During wet weather, most trails are impassable. Plan to carry water with you as it is extremely limited on the Refuge and drinking water is generally unavailable. Cell phone service is sporadic.
Read the rules and regulations for use of the Refuge here.
Amenities
Camping
There are several campgrounds within the Refuge managed by a variety of different agencies. The James Kipp Recreation Area is the closest to Lewistown. Dispersed camping is also allowed.
Cost: Depends on location
Hiking
Hiking is allowed anywhere on the Refuge, but there are also established trails scattered around the Refuge with varying levels of development and accessibility. Two hiking trails originate in Hell Creek State Park on the south side.
Wildlife Viewing
The Refuge is home to many species of wildlife. Sixty species of mammals have been observed on the Refuge. Large ungulates such as elk, mule deer, pronghorn, and bighorn sheep are common, while native predators like coyote, bobcat, and mountain lion are secretive and not commonly seen.
A self-guided auto tour route, which may be accessed from two points along Highway 191 on the west side of the Refuge, provides visitors the chance to see the Refuge close-up and gain a better understanding of Refuge resources. The tour route follows an all-weather gravel road that parallels the Missouri River before climbing out onto upland prairie and rolling rangeland. Interpretive stops along the route provide information on the wildlife, geology, and history of this unique landscape. This auto tour route is 19 miles long and takes 2-3 hours to complete.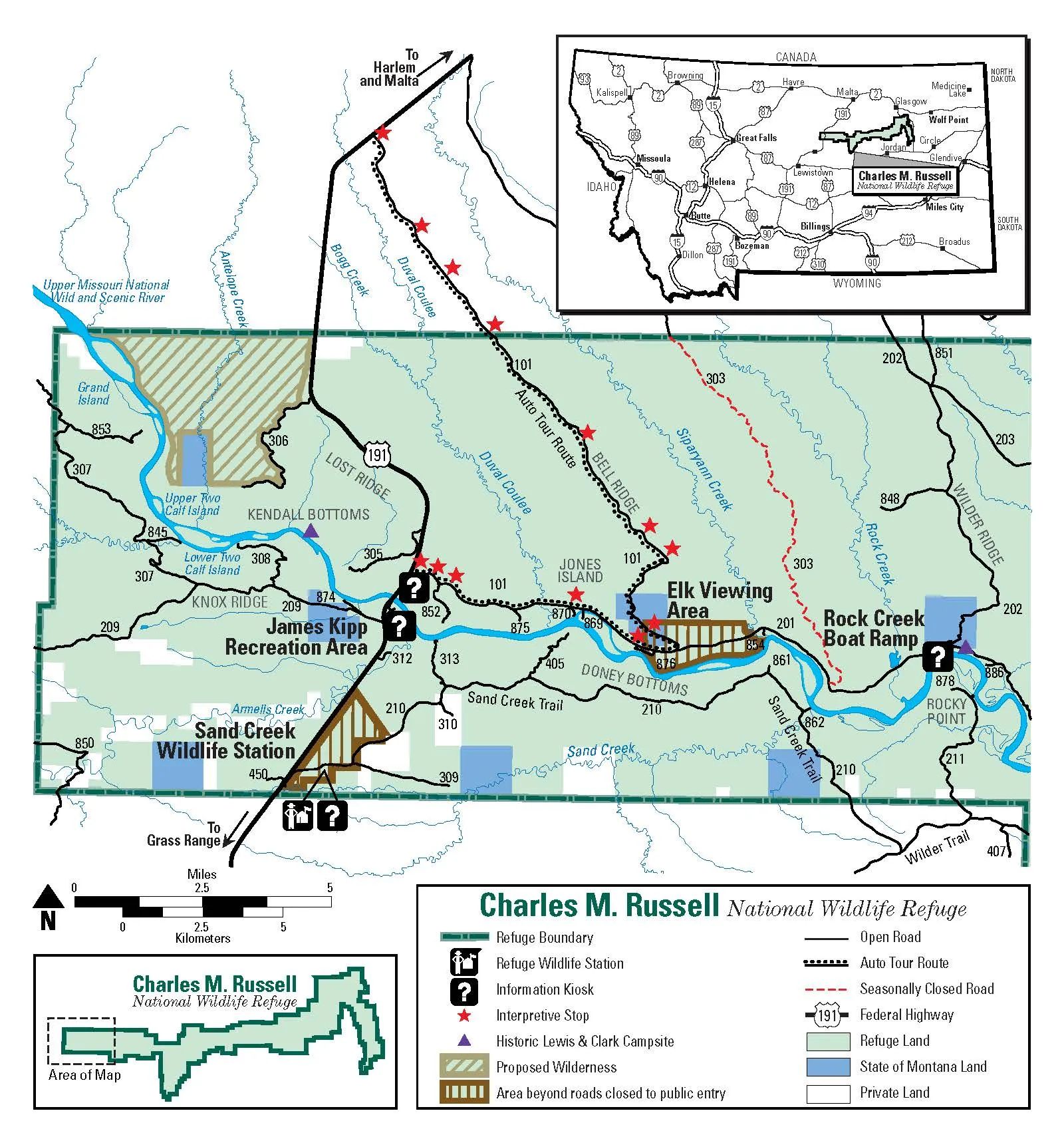 The very popular elk viewing area is located on the west end of the Refuge along the Auto Tour Route. During the elk breeding season (September and October), large numbers of elk congregate at the Slippery Ann Elk Viewing Area. Peak numbers of bull elk in the rut can be viewed around the second and third weeks of September.
Birdwatching
The Refuge is home to more than 235 species of birds. Bird watching provides opportunities to see many northern prairie grassland species such as western meadowlarks, mountain plovers, chestnut-collared longspurs, and prairie falcons. A refuge Bird List is available.
Best Season(s): Year-Round
Horseback Riding
Horses maybe used on the Refuge. They must be tied, hobbled, or picketed while in camp. Pens are provided at some Army Corps of Engineers Recreation sites. Only noxious weed seed free forage is allowed on the Refuge to prevent the spread of noxious weeds. Contact any Refuge office for a list of approved vendors. There are stock ponds throughout the Refuge, however there are not mapped locations for them and it is best to bring your own water for your horses.
Boating & Canoeing
Boating is permitted on the Missouri River. Numerous boat ramps and several marinas are located around the Refuge.
Fishing
Fishing is permitted on the Missouri River. Popular species include walleye, sauger, paddlefish, and northern pike.
Big Game Hunting
Hunting on the Refuge is subject to Federal and State regulations, and a Montana hunting license is required. Mule deer, antelope and elk hunting are very popular on the Refuge. Mule deer are found throughout the entire Refuge and numbers will vary from year to year. Elk occur on most parts of the Refuge with the exception of the area around the Big Dry Arm. Bighorn sheep hunting is permitted on the Refuge, but permits are limited. Some white-tailed deer inhabit riparian areas along the Missouri River and its tributaries, but are not nearly as common as mule deer.
Upland Bird & Waterfowl Hunting
Hunting on the Refuge is subject to Federal and State regulations and a Montana hunting license is required. Sage grouse, sharp-tailed grouse, pheasants and grey partridge occur on the Refuge. Small game numbers fluctuate considerably from year-to-year, depending on winter survival and spring nesting conditions. Dove hunting opportunities are also available on the Refuge, but the window of opportunity is short as doves usually migrate out of this area by early September. Huntable populations of ducks and geese also occur along the Fort Peck Reservoir and the Missouri River. Most hunting opportunity is in the fields where birds go out to feed, but many islands on free-flowing portions of the river provide a good quality hunting opportunity.
How to Get There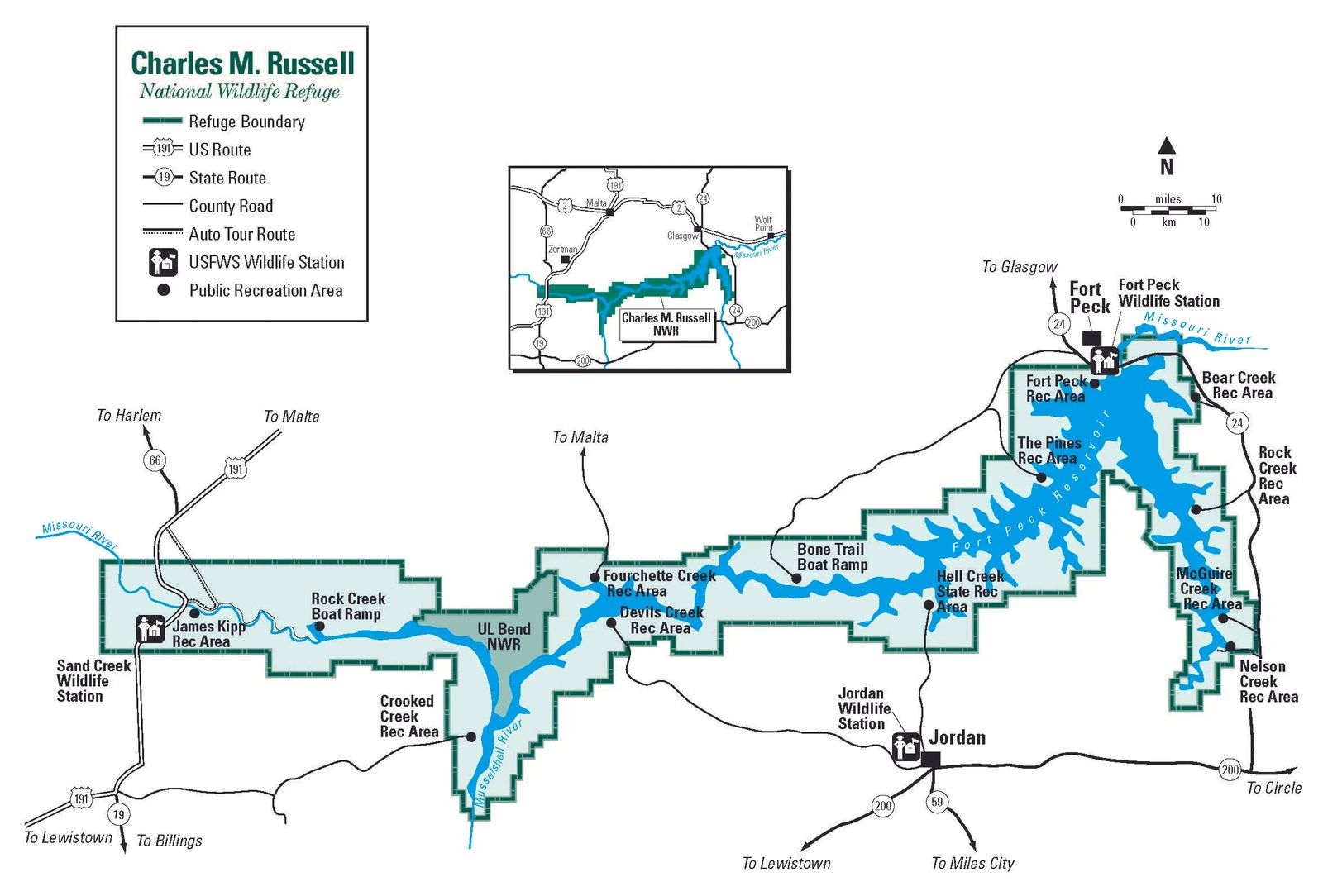 Other Things You Might Like