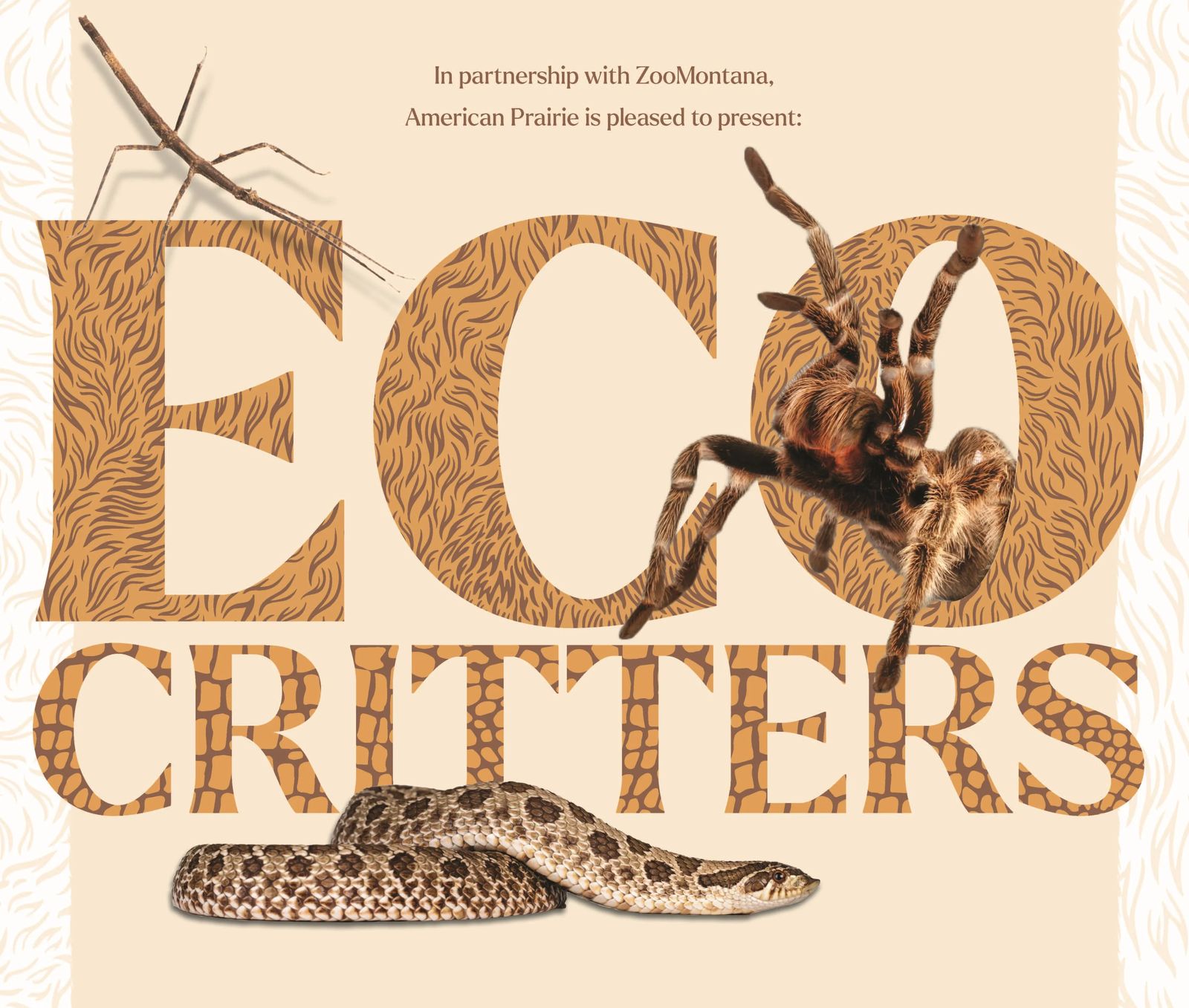 ECO-Critters with ZooMontana
LIVE ANIMAL EVENT AT AMERICAN PRAIRIE'S NATIONAL DISCOVERY CENTER
ZooMontana returns to Lewistown May 6 for Eco-Critters event
American Prairie is pleased to announce an upcoming event in partnership with ZooMontana at the National Discovery Center in Lewistown. On Saturday, May 6, from 10am to 4pm, educational staff from ZooMontana in Billings will return to Lewistown with live animals from around the world as part of the National Discovery Center's free ongoing program, "ECO-Critters."
This is the second of six scheduled visits in 2023 by ZooMontana to the National Discovery Center and Lewistown. During this free event, visitors can explore multiple stations and learn about the natural world the animals live in and how they are cared for at ZooMontana. Visitors can also tour the National Discovery Center exhibits and learn even more about prairie plants and animals.
Animals visiting on May 6 include a hognose snake, three-toed box turtle, and Chilean rose hair tarantula.
• Wilbur, the plains hognose snake, is native to the Central Montana prairie. This colorful critter, when threatened, will sometimes "play dead" by sticking out its tongue, bleeding from its mouth, and releasing an odor!
• Roxie, the three-toed box turtle, has a hinged shell and is native to the south-central United States. Three-toed box turtles have a domed shell which grows from five to seven inches in length. In the males, the head and throat often display yellow, red, and orange spots.
• Taboo, the Chilean rose hair tarantula, is a medium-sized spider native to Chile, Argentina and Bolivia in desert and scrub habitats. For defense, these spiders can throw irritating hairs from their bodies. They are active predators, feeding on a variety of invertebrates as well as small vertebrates like mice, frogs and lizards.
ZooMontana Education Specialist and Outreach Coordinator Fernanda Mora and Education and Social Media Coordinator Brooke Tucker will be on hand to answer questions and handle these interesting creatures.
ECO-Critters is one of a number of new educational programs currently being developed by American Prairie's National Discovery Center staff. Future dates for ECO-Critters at the National Discovery Center are July 8, August 5, September 9, and November 11.
The American Prairie National Discovery Center is located at 302 W. Main Street in Lewistown, and is open Thursday through Saturday from 10am to 4pm. Visit americanprairie.org/national-discovery-center to learn more, and follow American Prairie on Facebook for updates on upcoming events and programming.
About American Prairie
American Prairie's vision is to create a vast and collaboratively-managed prairie destination that serves as a fully functioning ecosystem for wildlife, and offers visitors permanent access to the landscape that shaped our nation's character. Already open to the public for recreation including camping and hunting, American Prairie offers visitors an opportunity to connect with nature on a truly grand scale. Learn more at americanprairie.org
About ZooMontana
ZooMontana is Montana's only zoological and botanical park, and is dedicated to wildlife education and conservation revolving around Earth's 45th parallel. It is an AZA accredited nonprofit educational organization committed to the best in animal care. ZooMontana's education program reaches over 20,000 students per year, both on and off zoo grounds. The zoo is located at 2100 S. Shiloh Road in Billings, Montana. Learn more at zoomontana.org