Upper Missouri River Breaks National Monument
The Upper Missouri River Breaks National Monument contains a spectacular array of biological, geological, and historical objects of interest.
From Fort Benton to the Charles M. Russell National Wildlife Refuge, the monument spans 149 miles of the Upper Missouri River, the adjacent Breaks country, and portions of Arrow Creek, Antelope Creek, and the Judith River. The monument includes six wilderness study areas, the Cow Creek Area of Critical Environmental Concern, segments of the Lewis and Clark National Historic Trail and the Nez Perce National Historic Trail, the Fort Benton National Historic Landmark, a watchable wildlife area, and the Missouri Breaks Back Country Byway.
In 1976, Congress designated the Missouri River segment and corridor in this area a National Wild and Scenic River. The area has remained largely unchanged in over 200 years since Meriwether Lewis and William Clark traveled through it on their epic journey. Within the monument you can float the river, fish, hike, hunt, drive for pleasure, find a little solitude, enjoy a sense of exploration in a remote setting or simply marvel at the variety of natural beauty.
Vast portions of the monument are serviced only by graveled and unimproved roads. Much of the monument is not accessible by any road, inviting visitors to explore on foot. Some of the roads are not suitable for low-clearance vehicles, and many roads cross soils that become absolutely impassable when wet. Off-road driving (cross-country travel) is not allowed in the monument.
Amenities
Camping
The Monument has a number of designated campgrounds along the Missouri River, including sites at Judith Landing, Stafford Ferry, and Woodhawk. And as in most of our country's national monuments, camping is allowed in places where there are no organized campgrounds. Pitch your tent pretty much anywhere on public land.
Cost: Depends on the site; see the BLM for more information.
Hiking
The majority of recreation on The Monument is focused along the Missouri River, but there is a total of 375,000 acres of public land to be explored. Whether it is walking in the wide open uplands, or crawling through the slot canyons near the river, hiking in the monument gives you the opportunity to see parts of The Monument few have the chance to experience.
Wildlife Viewing
The Upper Missouri River corridor is a designated Watchable Wildlife site. It has some of the largest bighorn sheep and elk herds in the continental United States. Cliff faces provide perching and nesting habitat for many raptors. The river and surrounding uplands provide habitat for 49 species of fish, 60 species of mammals, 233 species of birds and 20 species of reptiles and amphibians.
Birdwatching
Over 230 bird species have been observed here. Key birds include Greater Sage Grouse, Sharp-Tailed Grouse, Burrowing Owl, Baird's Sparrow, Mountain Plover, Long-Billed Curlew, Sandhill Crane, Eastern Screech Owl, Sprague's Pipit, Golden Eagle, Western Meadowlark, Yellow-Breasted Chat, Spotted Towhee, Common Poorwill, White-Throated Swifts, Rock Wrens, Prairie Falcons, Green-Tailed Towhee, Red-Eyed Vireo, Brown Thrasher, Mountain Bluebird, Common Nighthawk, Yellow-Headed Blackbird, Great Horned Owl, American White Pelican, Bald Eagle, Osprey, Western Kingbird, and Bullock's Oriole.
Best Season(s): Grouse breeding late March through early May; Burrowing Owl chicks most visible in July; spring and fall migration for waterfowl and shorebirds.
Information courtesy of "Birding Trails Montana: 240 Birding Locations Across the Big Sky State" and CentralMontana.com.
Boating & Canoeing
Boating (by any type of watercraft) is one of the premiere activities in the Upper Missouri River Breaks National Monument, as you can obtain access to the sweeping "breaks" views, numerous camping opportunities, homestead viewing, hiking and premier hunting and fishing.
Fishing
Forty-nine species of fish (ranging from 1/2-oz. minnows to 140 lb. paddlefish) reside in the Missouri River. Fishermen are most likely to catch goldeye, drum, sauger, walleye, northern pike, channel cat, carp, and small mouth buffalo. Of the six remaining paddlefish populations in the United States, the Upper Missouri's appears to be the largest in average size. Other unusual species in the river are the endangered pallid sturgeon and shovel nose sturgeon.
Fishing Access Sites: There are various fishing access sites in the Breaks, including:
Slaughter River
Judith Landing
Stafford Ferry
Cow Island Landing
Woodhawk
Big Game Hunting
There's some good pronghorn antelope hunting in the open country of the Breaks. Mule deer numbers are very good here and some of the more remote canyons harbor giant bucks. Whitetail deer are also common in the cottonwood studded riparian areas along the river. Some of the biggest bull elk in Montana call the Breaks home. These tags aren't easy to draw but it's worth the wait. A Missouri River Breaks bighorn sheep tag is one of the most coveted big game licenses in the world. The Breaks consistently produce some of the biggest bighorn rams in the country but this once-in-a-lifetime tag may take twenty years or more to draw.
Upland Bird & Waterfowl Hunting
Upland bird hunting is excellent for pheasants, Hungarian partridge and sharp-tailed grouse. The Missouri River is a major migration corridor for ducks and geese. And healthy populations of wild turkeys are common.
How to Get There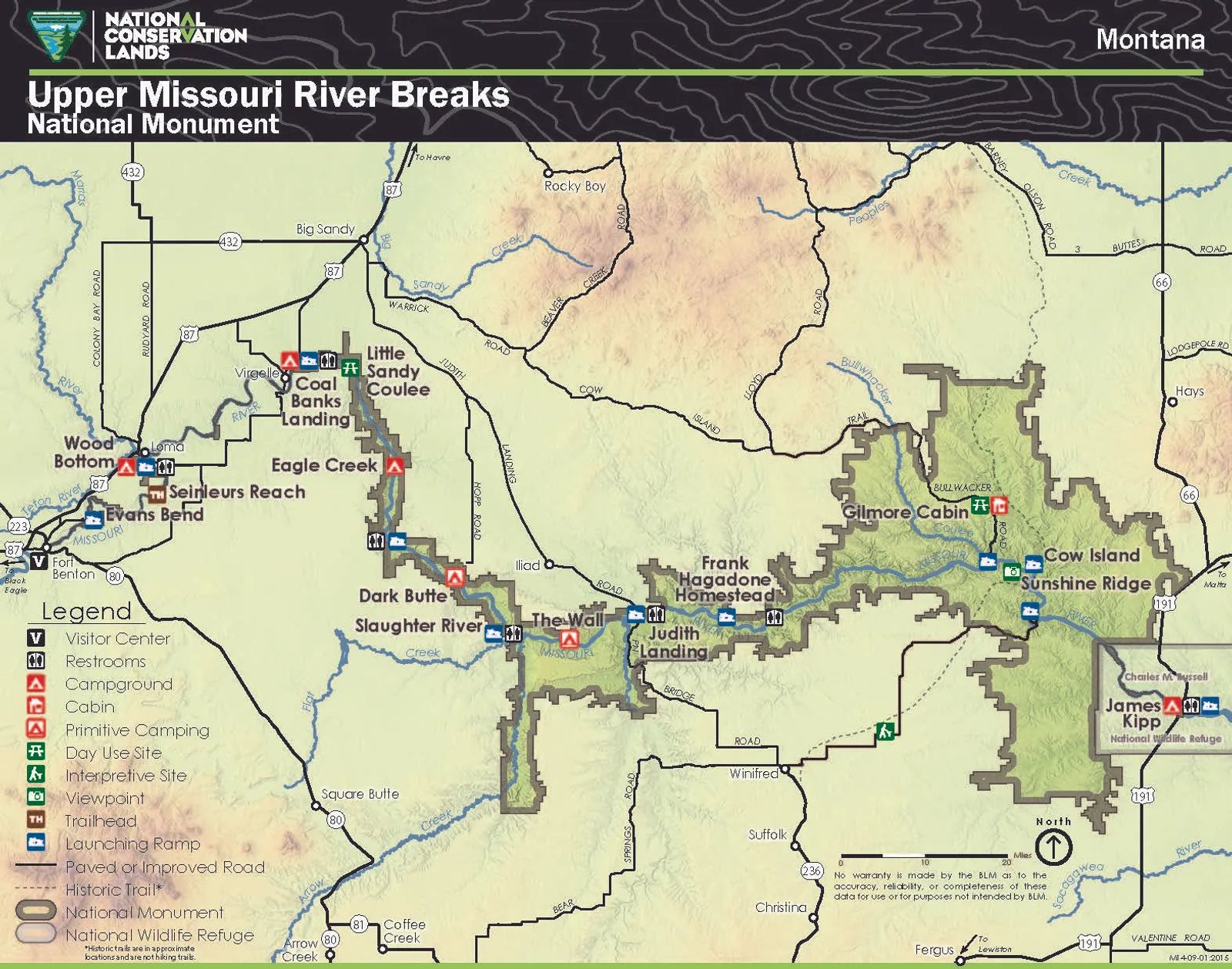 Other Things You Might Like